Our new-and-improved website is finally here!  In our 15th year, we celebrate the past, present, and future…bringing you current on all things that have been happening with FSV, what's happening right now, and what we look forward to with great joy.
Upon relocating to the greater Boston area a few years ago, we started to make connections and find ways we could benefit the children in this city, in addition to continuing the many endeavors that keep us traveling around the country and the world.  We connected with an amazing organization, Higher Ground, founded by visionary Hubie Jones and led by executive director Mossik Hacobian, who connected us with Boston city schools in need of a stronger presence of music in their communities.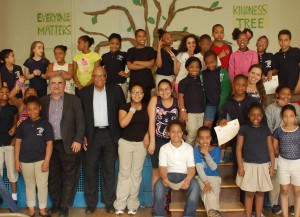 Starting with just two schools this spring in an 8-week pilot program, we can't believe how far these children have come in such a short time…and the 8 week session is already nearly over!
Children who make up what we call the "Small Voices of Hope" choruses at David Ellis School and Higginson Lewis School will perform for their friends and families next week, sharing everything they've learned.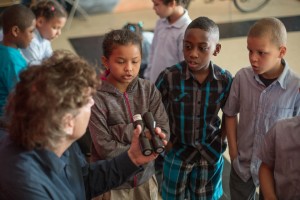 Between songs from the choral repertoire led by conductor Sophia Papoulis, and a songwriting workshop — and recording session! — led by composer Jim Papoulis, we know the parents, teachers, and peers of these hardworking young people will be as inspired as we have been by all they've accomplished in such a short time.
Stay tuned for an update after these much-anticipated performances!